Your book is done. Now you need a website. It's crucial to your success.
In today's book marketplace, your online presence as an author is more important than ever.
Let's Get Started
+18887154901

#1

international
bestselling
author
What You Need to Know About Bureau of writers!
We believe that every story is worth sharing. Our ghostwriters for hire put effort into executing your idea to perfection. Nothing can be accomplished without hard work and dedication. Our team has these attributes to create an exciting product. To shape words into a story, we are going to need the appropriate information. We refer to it as the project brief. Our ghostwriting services embed the true essence of your words in the right manner. We assure our clients that quality will never be compromised.
Ghostwriting
Book Cover Design
Proof Reading
Book Publishing
Book Editing
Book Marketing
Looking For A Ghostwriter?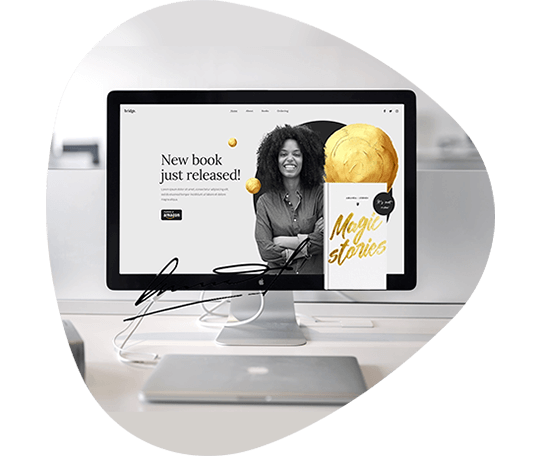 Beautiful Author Websites Designed For You and Your Books
Your website is at the center of your online strategy. It's often the first place people will go to learn about you and your book. So creating a site that communicates the message and image you want to present to the world is crucial to your success.
Let's Get Started

What is the Purpose of Your Author Website?
Our excellence in ghostwriting stems from our unique and client-centric approach.
Authors and small publishers must have their own mobile-friendly, professional looking website—it is, by far, the most important element of a book marketing strategy.

Let's Get Started

You have complete control over the content of your website, and you can put just about anything and everything on it.

Let us guide you

Obviously you want your author bio and book information to communicate with readers. We will have a mailing list signup form on your site and connect it to your social networking accounts. Do you plan to blog regularly? How do you want to sell books: with links to online retailers or directly using ecommerce? We will guide you!

Let's Get Started
Can't wait for your manuscript to get published?
We are here for you. Hire one of our ghostwriters and make your dream book come to life.
Become an author to a best seller
WE HELP AUTHORS STAND OUT.
We design creative websites for professional authors. The easy update system makes it simple to manage your site.
Creating Your Author Website
Whether you are just beginning your writing career or you are a successful novelist with dozens of books under your belt, GBW is a great solution for creating your author website.
Choose a Domain Name
Choosing the right domain name is one of the most important decisions you will make when starting out with your author website.
Pages For Your Author Website
Most visitors expect to find certain information on an author's website. You want to make sure that you provide all the relevant information for all the different groups of people that will check out your site
Build an Audience
Take your social media presence to another level. Connect your website to every social media network where you are active. Facebook, Twitter, Instagram, Goodreads and more.
Promote Your Writing with a Newsletter
Building an email list is the best way to stay connected to the new and existing fans that find their way to your author website.
Search Engine Optimization for Author Websites
Once you have all your content on your website, the next step is to make sure your author website gets the proper attention from Google and other search engines. Making you Appear in all the search results that you want is our commitment.
TURN YOUR MANUSCRIPT INTO A

Professionally Published Book

Our professional team of ghost writers will give you a complete 360 degrees guidance of how you can turn your ideas into a professional published book.

Let's start writing a book